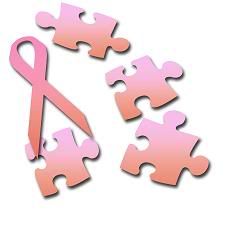 There are many fine websites that deal with the topic of breast cancer.  Some are extremely good, some are very clinical by nature, and others are downright awful.  When you test the waters of the internet, you'll probably become overwhelmed (like we were), and so we've gathered informational links for your convenience.  These are the websites that other women have used to help take the mystery out of their breast cancer.
Men get breast cancer, too!  Please click here for more information about male breast cancer.
Topics can range from:  Who gets cancer?  What are the myths of breast cancer? Is my family history important? Is my age important? Do my eating habits make me at risk for breast cancer? Does taking birth control have any effect? Is a breast cancer diagnosis a death sentence? If breast cancer doesn't run in my family, then can I still get it? I have diabetes and breast cancer, what now?  And the questions are too numerous to post here, but you get the idea.

You will find these topics with links:  Resources and Links


| | |
| --- | --- |
| Breast Anatomy | Ethnic Cancer Issues |
| Breast Basics | Illustrations of Breast Cancer |
| Breast Facts | Images of Breast Cancer |
| Breast Cancer: Immune System | Making Decisions While Emotional |
| Breast Cancer Topics | Minority Women's Health |
| Breast Cancer Guide | Staging |
| Breast Cancer in the Workplace | Staging + Illustrations |
| Diabetics and Breast Cancer | Types of Cancer + Metastatic |
| Every Woman's Guide to BC | Women's Health Care Forum |
| Family Health Issues | Articles of Interest to Read |
Lesbian Cancer Issues: 
     American Cancer Society
    Breast Cancer Network of Strength
 

Also see:  Lymphedema
                         Inflammatory Breast Cancer
                         Hotlines for Help